Grasp the Keys to Your Future!!!
Why fumble with keys another day?
You can transform key chaos to key comfort!
Start your ignition - cars, boats, motorcycles, RV's, ATV's, SUV's, snowmobiles, and scooters.
The elegant
KEY KOVER
design brings you in touch with easy access to doors and ignitions. Are you a vacation traveler, camper, climber, backpacker, snowboarder, skier, fisher or hiker, you now have a key advantage.
Order Regular Key Kover now!
Order Leather Key Kover now!
Order Wallet Key Kover now!
Order Wholesale Key Kovers now!
Click to enlarge
| | |
| --- | --- |
| Wallet key kover with nylon key chain. Carries your keys plus two cargo spaces for frequently used items such as ID cards, credit cards, and calling cards. Click here to order your wallet key cover now! | Leather Wallet Key Kover, polished functionality, elegant leather, keys plus two mini cargo pockets for cash, ID, business cards, credit cards and much more. Great for those on the run, ease out the door and reach for your Leather Wallet Key Kover, ultra-slim, attractively sleek, multi-functional, keeps you organized and in style, Luxury Key Kover Comfort at $30.00. Ask for thin or thicker leather, "Jumbo" black sized Leather Wallet Key Kover. |
Click to enlarge
Key Kover Wholesale
Wholesale prices for 36 or more Key Kovers ordered. Order Key Kovers in bulk!
Bright and vibrant colors distinguish your KEY KOVER in a family of multi-colored choices; Red, Blue, Yellow, Green, Silver, Maroon, Orange standard size 5 x 2.75 inch and the Black "Jumbo" 5 x 3.25 inch KEY KOVER.
Made in Boulder, Colorado, USA. of durable and lightweight nylon fabrics. Supplied with an assortment of 4 key rings in 2 sizes, a bigger secure locking ring and a handy plastic hook, make the wise key choice.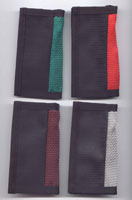 The silent key stealth design - perfect for hunters and security professionals. Tired of noisy keys jingle-jangle? Silence them and fold KEY KOVER in half, then zip open in a flash.
This may be the coolest key compactor ever invented! Key to keeping your cool.
Permanently end worn out pockets; builders, construction workers, painters, plumbers, electricians enjoy the ease of smart keys.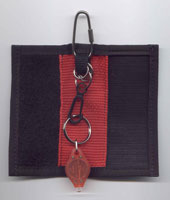 Small enough to wear on neck lanyards, clip to belt loops, back packs or golf bags, great for sports and vacation travel, know where your keys are immediately, join the international key club.

Your valued family knows "that's my KEY KOVER" by color and business's use the key system as a promotional with company logos imprinted, a real key asset.

You can make a wise key choice, weigh the options, be a key player, and remember you now hold the key, try out KEY KOVER.